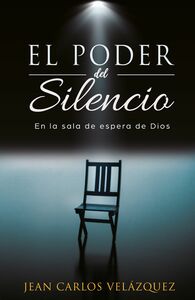 El poder del silencio: Este libro lleva como reto identificar lagunas en nuestra alma y respuestas bajo el silencio de la puesta del sol. En aquellos surcos donde otros no pueden entrar y los mares se encuentran embravecidos, la instrucción de un Padre que vive en los cielos y a la vez habita en mí ser, me demanda que hable a los lectores a través de estos escritos.
El poder se utiliza de dos enfoques y/o partidas: Autoridad desafiante & Autoridad sigilosa. La primera busca manipular dominios de grandeza y protagonismo para alimentar el "ego", y la secundaria busca establecer gobiernos en tu familia y vida cotidiana. ¿Cuántas veces has escuchado "tienes que esperar"? Tu tendencia es querer para ayer las cosas. Después de todo, vivimos en una sociedad instantánea que busca ser conforme al corazón de Dios.
Transformé mi tiempo de espera en una experiencia positiva; acercándome más a Él. Pese a que el tiempo no es un obstáculo para Dios, me afirmé en Su palabra, clamé sin cesar para que Él escuchara mis oraciones. Y lo más hermoso… me mostró el camino que tenía marcado para mí.
Book details
Publisher

Language

Original language

Publication date

Page count

Theme

Audience
About the author
Jean Carlos Velázquez
Jean Carlos Velázquez Guadalupe. Nació en Carolina, Puerto Rico. Ministro Evangélico y Escritor. Cursó sus grados elementales en Paul G. Miller, intermedia en Salvador Brau y superior vocacional Petra Zenón de Fabery en Trujillo Alto. Realizó créditos en Ciencias de la Salud en National University College y cursó su bachillerato en la UPR – Carolina y maestría en Ana G. Méndez. Se desempeña como Capellán online y un segundo grado de capellanía en la Iglesia Movimiento Pentecostal Unción y Poder Inc. Cursó 3 años de Instituto Pentecostal Enseñanza Bíblica y fue Maestro del mismo Instituto por un tiempo. Actualmente se encuentra residiendo en Sanford, FL, USA. Sirviendo a Dios como profeta y líder de la Iglesia Nación de Fe en Orlando. Autor del libro "Umbral del Reino".
Reviews
No reviews have been written for this book.