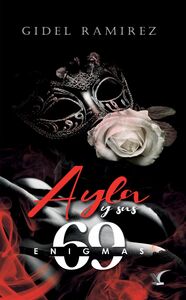 Esta obra dirigida sobre todo, a lectores que saben disfrutar y dejarse llevar por las emociones que emanan de manera natural del ser humano. Ser de psiquis saludable y no contaminada con las formalidades impuestas por sistemas amañados y condicionados por otros humanos no tan pulcros como se venden a los ojos de los demás.
En " Ayla y sus 69 Enigmas" encontrarás: el sentido del amor que no se muestra en vitrinas, la pasión que no se proyecta en televisión ni en revistas…
Si no sonara tan loco y místico, me atrevería a afirmar que, "Ayla es un almacén de almas femeninas logrado a través de la transmutación por uno de los mejores alquimistas de épocas pasadas.", y… si así fuese, en su interior habitarían las almas de: Cleopatra, Nefertari, Ester de Asuero, Helena de Troya; Olimpia de Epiro, Dalila de Sansón entre otras…
Book details
Publisher

Language

Original language

Publication date

Page count

Theme

Audience
About the author
Gidel Ramirez
G.R. ha escrito varias novelas, pobre todo terror y suspenso. Se ha desempeñado como arquitecto y escritor por varios años. Desde niño soñó con escribir, ha sido influenciado por los cuentos e historias que su abuelo le narraba. Como escritor ha sido reconocido por su editorial, ha participado de numerosas entrevistas para la televisión, diarios y revistas. Actualmente se desempeña como miembro del círculo de escritores y periodista de la República Dominicana, además es miembro de la Asociación de Escritores de Monte Plata, con la función de tesorero, además es editor de editoriales en Santo Domingo. Sus obras se venden en varios países y en todas las plataformas digitales bajo el sello del Grupo Editorial Verite.
Reviews
No reviews have been written for this book.